Shipwreck Coin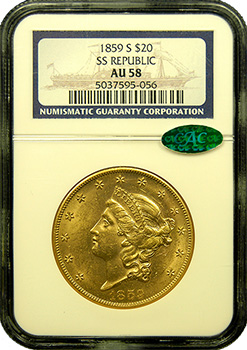 of the Month - April
1859 $20 Liberty Head Gold Coin
NGC/AU-58 CAC - Click Here

Find Special Pricing on selected Gold Coins, Silver Coins, Rare Coins, & Ancient Coins


1857 S.S. Central America Shipwreck
"The Ship of Gold"
The sinking of the Central America in a hurricane in 1857 in the Atlantic Ocean was one of the worst peacetime tragedies of men, ship, and Gold lost at sea. Over 425 men and many tons of Gold were thought to have been lost forever.

In 1989, the Ship of Gold and her cargo of San Francisco Gold coins were discovered and retrieved from the bottom of the ocean. Now, some 144 years later, you can own an authentic, historic piece of California Gold Rush history with these Shipwreck Gold Coins and Shipwreck Silver Coins.


1846 S.S. New York Shipwreck Gold Coins

The S.S. New York shipwreck in 1846 was almost overlooked as Americans were devoted to the fighting troops on the battlefields during the war against Mexico. The ship's captain unknowingly set sail directly into a hurricane, and after trying to wait it out, the ship tragically turned the wrong way and was unable to recoveritself from the fury of the storm.

On September 7, 1846 the ship was lost to the sea, taking with it 17 souls and thirty to forty thousand dollars worth of U.S. Gold coins, U.S. Silver coins, and bank notes. The recovery in 2007 revealed an incredible hoard of little-known U.S. Southern mint Gold and Silver coins, some of which are the finest known Charlotte, Dahlonega, and New Orleans coins.


1865 S.S. Brother Jonathan Shipwreck
In July of 1865 the side wheeler steamship the S.S. Brother Jonathan sailed from the harbor in San Francisco overloaded with cargo. On board was a treasure chest of Gold mined during the California Gold Rush Days. A gale kicked up shortly after Brother Jonathan left port and the storm worsened. Around one o'clock in the afternoon, the ill-fated steamer passed Crescent City, California, hitting the Saint George Reef. The impact
was so jarring that both passengers and crew were tossed overboard.